hyperpaper planner
Supercharge your tablet
Take your reMarkable, Supernote or Kindle Scribe to the next level with a planner and calendar configured specifically for your workflow.
Effortlessly manage and navigate your tasks, schedule, notes, and projects.
Customer testimonials
Your calendar is absolutely great! A game changer for me.This is a great bit of development for a great device, thank you so much for your work. Very impressive.Really love your planner. It's the start of every day, and the page I leave my rM2 on when it goes to sleep.It's turned my eink device from a somewhat cumbersome novelty gimmicky notepad, to a sleek and practical plannerI love my reMarkable 2 and these yearly planners make them even better! It has been the difference maker in me selling/returning my reMarkable and keeping it!
Features
4× Quarterly planning pages
Lined or dotted pages for sketching out your goals for each month. Linked with each day and month in the quarter.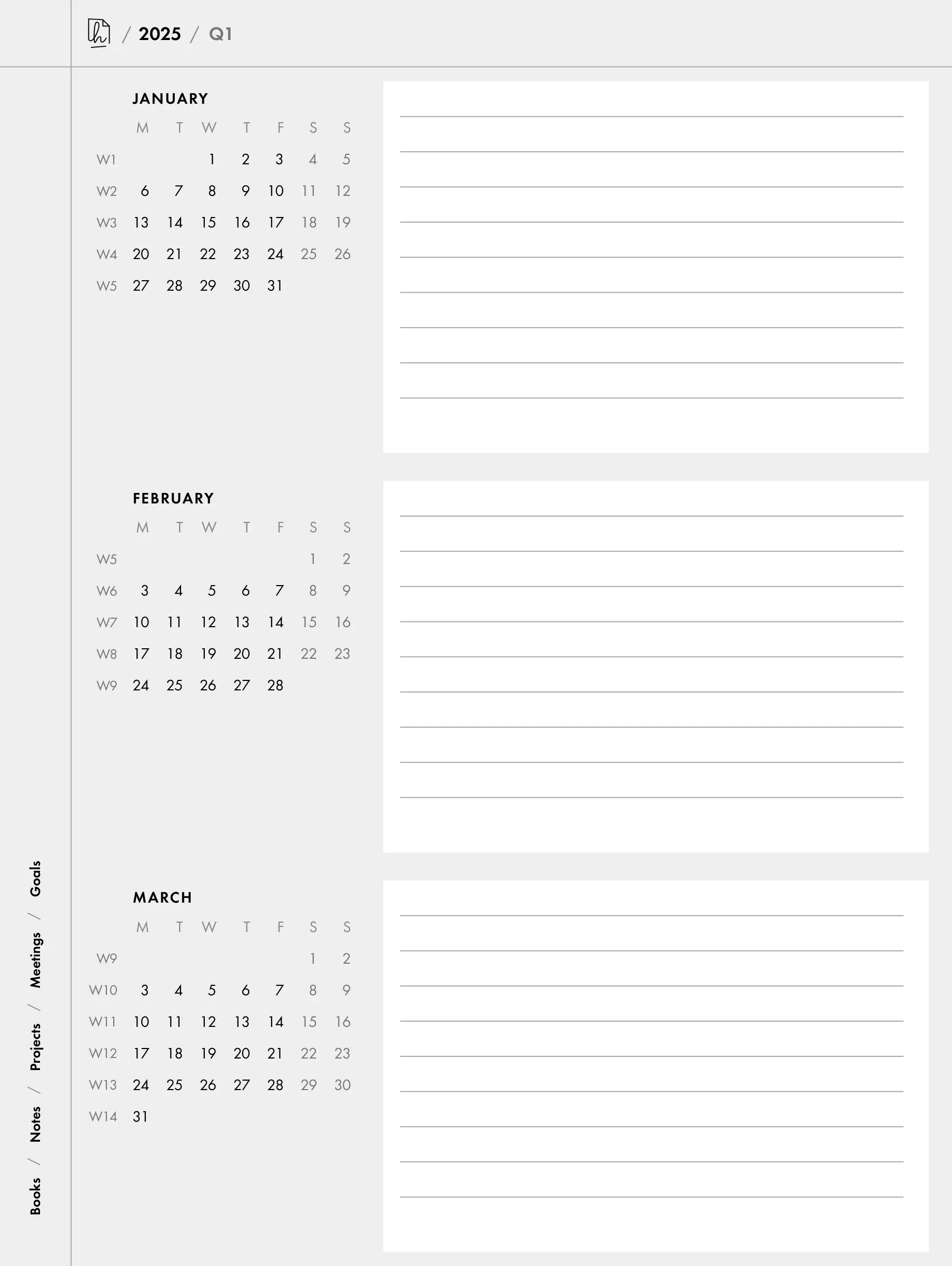 12× Month calendar pages
Your classic monthly calendar, with each cell linking to the corresponding Day page. Optionally include official holidays (hundreds of countries supported!)
53× Weekly task pages
Choose lined, dotted, or kanban pages. Linked bidirectionally with every day in the week.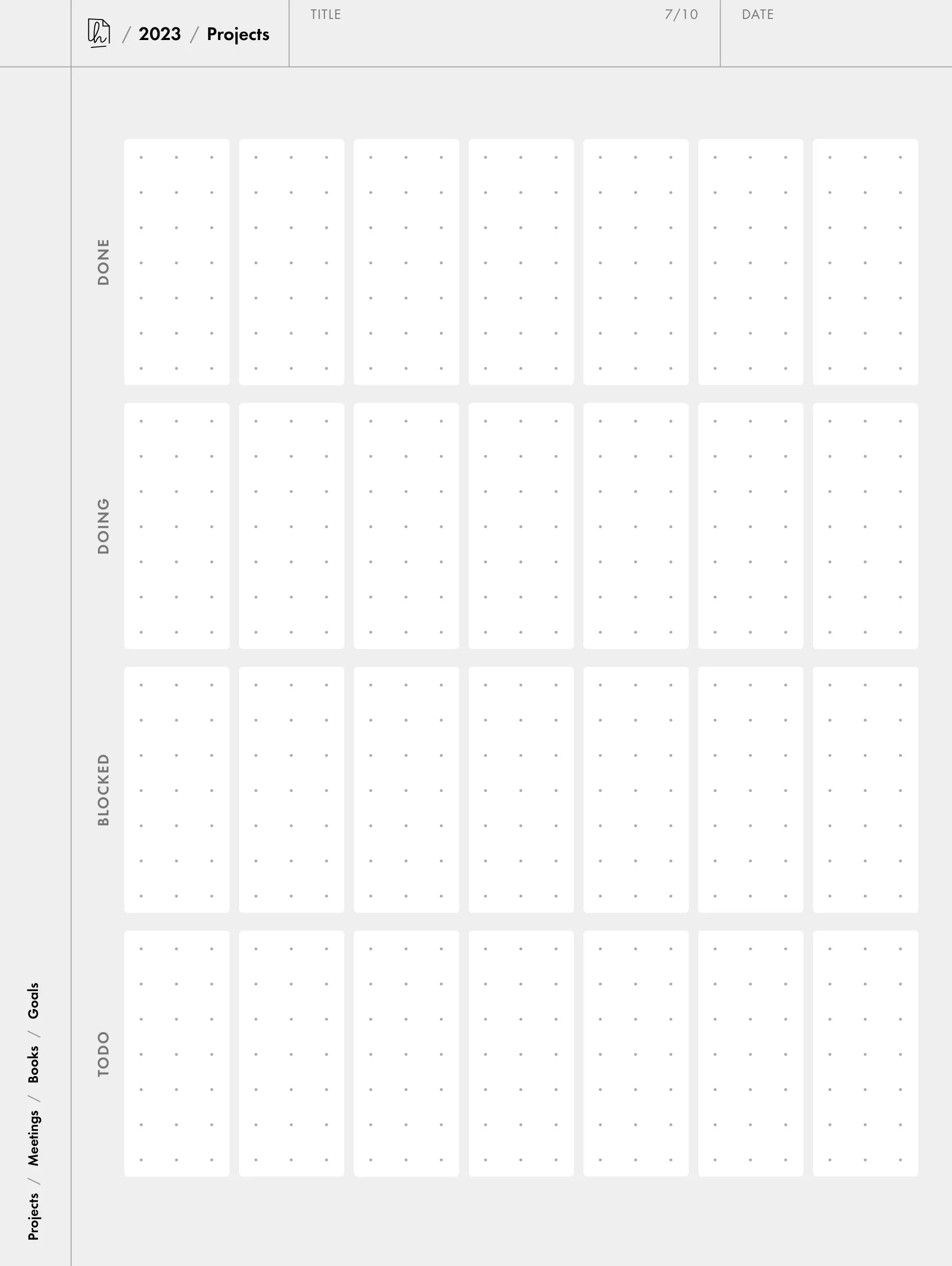 365× Daily pages
The heart of the planner. One page for every day in the year, with:
Dotted or lined layout
Space for your top tasks
Plenty of room for daily notes or a journal entry
(optional) agenda on the right side to help wrangle your schedule
(optional) Shaded working hours in the agenda
??× Meeting Notes
A convenient structured template for your meeting notes– available lined or dotted. Add as many collections as you need, so you can easily organize notes from different types of meetings.
??× Collection pages
This is what sets our planner apart. Customize which extra linked pages are included, to tailor it to your needs. Use these for:
Projects, ideas, and loose notes
Habit & fitness trackers
Gratitude journalling
Book ratings & reviews
...anything else you want to organize and track
FAQ
What is this thing?

The hyperpaper planner is a fully interlinked dayplanner designed for tablet devices, contained in a single pdf file. It offers a range of customizations so you can tailor it to your needs.
Why this planner?

There are quite a few solid options out there for pdf-based planners. The main reasons you might choose this one:

Significant customizability and modularity. Create a planner with the features that matter to you, without extra stuff that gets in your way
Consistent and intuitive navigation
Support for national holidays in hundreds of countries
Excellent support for bullet journalling
Aesthetics – this is subjective, so take our demo files for a spin on your device
Which devices does this support?

The planner should work on any device that reads pdf files (and ideally, supports links). It's designed in particular for large-screened eInk tablets like:

reMarkable 1 & 2
Kindle Scribe
Supernote (A5, A5X, A6, A6X)
Onyx Boox – Tab Ultra C, Tab X, Max Lumi, Nova Air, etc
Fujitsu Quaderno (A4, A5)
Can I use this on an iPad?

Yes! It'll work with any app that lets you annotate pdfs (Notability, Goodnotes, etc)
How do I know how it'll work on my device?

Try one of the

free demo files

on your tablet to see if it's right for you.
The links don't work!

Make sure you're tapping the link with your finger. Most tablets won't activate pdf links if you try to tap them with the pen.
Can I get a version where weeks start on Sunday?

Sorry, that's not yet supported. It's a common request so it's planned to be ready for 2024.
How do I install it?

The planner is just a pdf file, so you load it onto your tablet like you would any other pdf or ebook file. The steps vary depending on the device you're using
How do I buy the full planner?

Choose your planner options with the customization form
Pay via Stripe
Within 10 minutes, you'll receive an email with your custom built pdf file
I ordered the planner but I didn't get an email!

If the planner doesn't arrive within 10 minutes, it's possible it landed in your Spam folder or was blocked. Please email orders at hyperpaper.me and we'll re-send it from another email address.
Stay in the loop
Get exclusive offers, tips, and discounts to power up your eInk workflow.
No more than 3 emails per year and absolutely zero spam!